Jones Orchard Farm Markets
Jones Orchard has two roadside farm markets where you can purchase our fresh produce, jams, jellies, relishes, and home-baked goods daily. While we are best known for our delicious peaches, you can also expect the same quality in our strawberries, apples, pears, nectarines, plums, blackberries, blueberries, and pumpkins throughout the growing season. Our complete selection of jams, jellies, preserves, and relishes are made in our kitchen at the Market at Highway 51 North and available at all our locations.
Market & Country Kitchen

Highway 51 North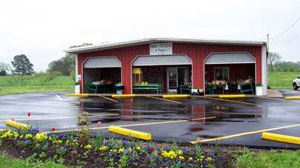 Market Info
7170 Highway 51 N.
Millington, TN
(901) 873-3150
Fax: (901) 872-1357
Store Hours
Wed - Sat
9:00 a.m. - 6:00 p.m.
We have a 2700 square foot market and country kitchen, at the Highway 51 North location. A step inside the market reveals a great selection of seasonal produce, including new additions of cantaloupes, watermelons, squash, and okra grown at Jones Orchard.
The kitchen is managed by Juanita Jones. We bake fresh pies and breads from scratch in the kitchen every day, along with our own relishes, jams and jellies. (Note: the Country Cafe is no longer serving lunches.)
Fruit Market


Singleton Parkway
Market Info
6850 Singleton Pkwy
Millington, TN
(901) 872-0703
Store Hours
Closed for the Off-season
Our full line of fresh produce, jams, jellies, relishes and home-baked products are available at this location.
Need a Hand Finding Us?
Maps to each of our locations can be found on our directions page.